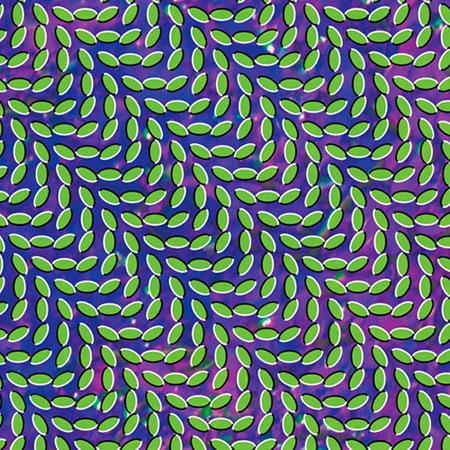 #20: Animal Collective -

Merriweather Post Pavillion
Indie Hipster Douchebags may have been rubbing their pubic pitchforks over the album, but underneath the (admittedly) excessive hype is an actually well put together album. Musically speaking, it takes risks that most other artists wouldn't dare, and the production on it makes the entire album razor sharp and occasionally danceable, although you'd still enjoy it more on a controlled substance.
#19: Bon Iver -

Blood Bank
Yes, it's an EP. Yes, 25% of the album relies exclusively on auto-tune. Yes, it fully deserves to be on the list. The story of
For Emma, Forever Ago
's creation has pretty much entered the canon of Indie-Folk legend, and
Blood Bank
was Bon Iver's way of assuring us that he was more than the sum of his parts.
#18: Karen O & The Kids -

Where The Wild Things Are OST
While it may have been something of a commercial failure, but artistically speaking, it was a middle-age hipster's wet dream: Direction by Spike Jonze, adaptation by Dave Eggers, and held together with a score by Karen O. Equal parts playfully naive and introspectively melancholic, the soundtrack was astounding, bridging the gap between childhood daydreaming and adult woe. And Hideaway still breaks my heart into itty bitty pieces whenever I hear it.
#17: Lily Allen -

It's Not Me, It's You
Lyrically, it was weaker on the whole than her previous efforts, but it established Allen as an artist who knows her way around bubblegum beats. While she might not be ready to tackle some of the bigger issues, she's still able to effortlessly bitchslap the men in her life who piss her off with little more than clever quips, a breathy voice and some absolutely killer hooks.
#16: Dinosaur Jr. -

Farm
At 25 years old, Dinosaur Jr. might be a bit of a misnomer. Regardless,
Farm
was a surprisingly accessible album from a band that's only been together for two years following their 8 year hiatus. Musically, it feels a bit like a mix-tape of the best songs from 90's college rock radio, channeled into a band who actually knows their way around a guitar.
#15: Wilco -

Wilco
(The Album)
Considering the album's painfully self-aware title,
Wilco (The Album)
is pretty much a collection of songs that are quintessentially Wilco (The Band). 'Consistent' may not be the most flattering adjective, but when I say that
Wilco (The Album)
is as good as you would expect it to be. After 15 years, Wilco (The Band) has created a style so uniquely their own, that each album seems to build upon it, and you can't help but call the resulting work home.
#14: Morrissey - Years of Refusal


Morrissey is fifty years old if you can believe it, and he still sounds as better and depressed as he ever has. And God bless him for it, because the man can still rock out some of the most depressing songs you'll ever hear. He's got the voice of an angel, albeit one in desperate need of some counseling, and he can still rock the ever-loving shit out of you, even if he is at the age where he yells at children to get off his lawn.
#13:
Peaches
-
I Feel Cream
Peaches is filthy, disgusting an absolutely perverted; I wouldn't have it any other way. While
Teaches of Peaches
may have been her defining work, every subsequent album has proved that Peaches still has that sexually-explicit polish she's become famous for. She still rules the dancefloor with an iron shocker, and
I Feel Cream
established her as electronica's reigning MILF.
#12: Matt & Kim -

Grand
I'm trying very hard to think of a good way to describe this one, but to be honest with you, I honestly can't do it. Words can't describe what exactly this album is. The closest I can get to properly describing it is as a delirious fever dream, replete with crashing drums and frenetic keyboards. It's zippy, scrappy and pretty damn spunky. But once again, that doesn't really do it justice now does it?
#11: Bat For Lashes -

Two Suns
To be perfectly honest with you, I honestly didn't see what the big deal was for Bat For Lashes' debut album,
Fur and Gold
. That being said,
Two Suns
was a message to the non-believers, as if to say "Didn't like my first album? Well fuck you, my sophomore is going to kick the musical shit out of you." And it did.
Two Suns
was frigidly beautiful and trippy as hell, and converted those who normally wouldn't give art pop a second look.
#10: Passion Pit -

Manners
Manners
was dance music for people who normally wouldn't be caught dead dancing. Between falsetto vocals, flawless rhythms and a theme dreamy yearning, Passion Pit created dance music with Indie sensibilities, never losing the balance between twee cafes and sweaty dance clubs. And for people who can't even take a shit without it being ironic, you gotta admit, hipster douchebags are a ton of fun to dance with.
#9: P.O.S. -

Never Better
If you thought hard enough about it, you could draw quite a few parallels between P.O.S. and Atmosphere: They both share the same bleakly moralistic style of alt-rap, they both share the same record label, and they both share the same position on my
best albums list
for their respective years. Needless to say, if you liked Atmosphere's ego-free music, you'll probably like P.O.S. too.
#8: The Dirty Projectors -

Bitte Orca
The one big problem most people have with indie music is that it lacks the soaring vocals of mainstream Top 40 radio. Sure, anyone can pick up a guitar and mumble a sweet little ditty, but how many can you name with a five-octave vocal range? The Dirty Projectors brought that sort of charm down to the hipsters with intricately woven pop songs that seemed to dance in and out of modern music conventions with almost limitless ease and grace.
#7: Phoenix -

Wolfgang Amadeus Phoenix
Before 2009, Phoenix was little more than a little French rock outfit that enjoyed critical and minor-commercial success. Then
Wolfgang Amadeus Phoenix
dropped and it was over. The album wasn't so much a breakthrough as it was a driving a tank through the front door, with it's first two singles,
Lisztomania
and
1901
, burrowing so far into your brain that you could never hope to get them out. Score one for the cheese-eating surrender monkeys.
#6: Metric -

Fantasies
If you take their word for it, Metric's music is about "sweaty fucking". By that logic,
Fantasies
is the part near the orgasm, when two people are pressed together and every inhale and exhale, each bead of sweat and every miniscule heartbeat becomes magnified tenfold. It's intimate, it's raw, and if you give it enough time, it's one hell of a release.
#5: Grizzly Bear - Veckatimest


No other song encapsulates Grizzly Bear's appeal like Two Weeks. It starts off simply, with a tinkly little piano riff, before adding bits and pieces, sweet little "oh-oh, OH-OH, OH!-OH!"s, a guitar that thumps a long, a steady drum beat, a whirling keyboard, before coming together at the end for one grand aural display akin to a fireworks show. And that's what Girzzly Bear is all about: Little bits and pieces that build to a grand finale.
#4: Neko Case -

Middle Cyclone
Neko Case' work has always had a element of nature to it, but Middle Cyclone was when Case finally became a part of her surroundings: a force of nature. Irrational, wholly unpredictable and devastating; she's just as likely to hold you tenderly as she is to tear apart towns and cities in search of something or someone to love. Case's voice rises above the torrential instrumentals as if to let you know who exactly is the fucking boss here.
#3: Yeah Yeah Yeahs -

It's Blitz!
If her discography is of any indication, Karen O can crack a whip like it's no one's business, effortlessly commanding any audience she feels worthy enough to captivate.
It's Blitz
was Karen O's way of marking her territory on the dancefloor, barking out orders in a voice that can break a heart in seconds flat. When she cries "Dance 'til your dead!", she means it.
#2: St. Vincent -

Actor
St. Vincent has never been more conflicted than on
Actor
. Despite her fragile voice and porcelain features, the woman is a ticking time bomb. From the explosive bridge of
The Strangers
, sandwiched between Disney-esque woodwinds, to the two-and-a-half condemnation of
Actor Out of Work
where she chews out and coddles you simultaneously, indecisiveness never sounded so good.
#1: Various Artists -

Dark Was The Night
A celebration of indie music, encapsulated for future generations to look back on, Dark Was The Night served not only to collect the best of the best of modern music, but for every album bought, proceeds went to the Red Hot organization, helping to raise funds and awareness for HIV/AIDS. Not only was it a flawless mix-tape, but it also helped fund a worthy cause. Not a bad deal, huh?