I know that this year is supposed to be the year where I finally start actually doing shit, so I decided that I would give myself a list of goals. If you don't have goals, you just wind up wandering around listlessly, and most people usually look down on the whole listless wandering thing.
Wonder why?
Anyway, here's a list of people I need to work with, naysayers be damned. And needless to say, but...
Diesel Washington
So not only is he fun to look at, but the man lays pipe a goddamn plumber. Seriously, the man knows how to give a hot dickin'. Also, he's kind of a dork, and I have the biggest boner for dorks ever.
Erik Rhodes
Yes, another guy who fulls under the "Hot muscle bod plus a cock most fly" category. What? Shit like that gets my motor running. And by "motor", I mean "penis". And by "running", I mean...You know where I'm going with this, right? Right.
Derek Da Silva
...Well, I certainly have a type (He's on the left-hand side). Actually, he also happens to be an indie-rock nerd too, which is the equivalent of a bottle of wine and a handful of Viagra down my throat. Nothing gets me hot like a guy outside who has The Yeah Yeah Yeahs' "Maps" on his iPod.
Matthew Rush
Because shut up your face; he's pretty.
Ricky Sinz
I just want to be all tattooed like he is eventually. Mind you, I'm doing pretty well so far, but I need more. WAY more. Also, once again, fucker throws the dickage. For reals.
Rocco Giovanni
Okay, so granted he's not a dog person, which means that the fucker cannot be trusted (
*Glares*
) but other than that? Nice guy, nice tats, overall badassery...Oh yeah. Word.
Steve Cruz
What can I say? It's the hair. I have a thing for the furry guys, so long as they don't have backhair. Or pubes that make it look like they have Diana Ross in a leg-lock. Point is, he has some kickin' body hair.
Reese Rideout
I am fully aware that Reese Rideout is, for lack of a better terms, crazypants. But he's the good sort of crazypants, like Lily Allen. And I like good crazypants. Also: Abs.
Cameron Marshall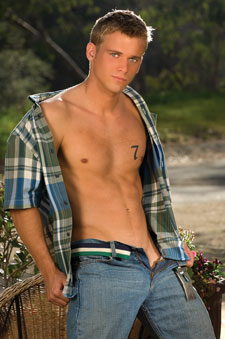 Oh come on, I'm allowed to fall for the more conventionally hot guys, right? Seriously, he's just hot no matter how you look at it.
Ben Patrick Johnson
Okay, technically not actually a gay porn star, but he's gay porn adjacent here, which is kinda close. Also, he did send me one of his books, so (to steal a phrase from Julie) "Isn't he sweet? He's one charm bracelet away from sticking it in your ass!" Needless to say, he has 24-hour anal privileges here.