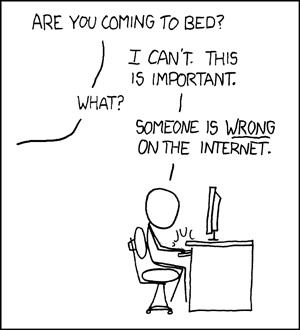 Hey you! You seem like a well-adjusted human being. How would you like to act like a total fucking asshole on the internet thanks to the power of anonymity? Well now you can! Just follow this simple guide and pretty soon you'll be projecting your own insecurities on people you've never met before for your own enjoyment.
#1: Find Your Dumping Ground

Much like real estate or hiding the body of that hooker you killed, the three most important parts of inter-douching are location, location, location. While anywhere is generally fine when it comes to dickin' it up, it usually helps to find a place where the clientele will go from 0 to Moral Outrage at the drop of a hat.
#2: Find A Target And Attack For No Discernible Reason
A valid argument? Bitch please. You're act of needless asshole-ishness must be as unfounded as possible. Think of yourself as The Joker: You're an agent of chaos, minus the weird-ass mouth scars.
#3: Take Any Criticism As A Personal Attack
How dare someone else have an opposing viewpoint! They must think they're better than you or something. As such, your goal is to demolish this person. Completely blow their comment out of proportion, take various pieces of it out of context, and most importantly...
#4: Target Their Mother
The classic standby. When it comes to maternity figures, nothing is off limits. Feel free to call their mom fat, stupid, hairy, ugly, smelly, slutty, skinny and foul. If their mother died, all the better.
#5: Everybody Else Is GAAAAAAAAAAY
What better way to draw attention away from your own doubts as to your orientation than by calling someone else a cock-swallowing fagosexual. The men who disagree with you are all limp-wristed ninnies and all the women are flannel-clad bull dykes. Speaking of women...
#6: Women Are Not Human Beings; Just Sex-Bots
Don't worry about the opinions of anyone with more than one X-chromosome. They're only bashing you because they simply cannot get enough of your manliness. Everyone knows that woman are attracted to assholes. Even the most well-thought out and articulate of arguments can be undermined with a cry of "OMG A GRL LETS CYBER".
#7: Blame Others For The Flame War
Did your random act of unnecessary dickishness incite a flame war? Well don't be too hard on yourself, obviously it was someone else' fault. Personal accountability isn't a concept that should even so much as cross your mind.
#8: Use The Hitler Card
At some point, every argument on the internet will eventually come down to a Hitler comparison. Always. It doesn't matter what the issue at hand is. Did you find the new Tyler Perry movie boring? You're just like Hitler! You think Proposition 8 will one day be seen as a national embarrassment to the civil rights movement? Seig Heil, Hitler! Do you agree that the anonymity of the internet has given people a carte blanche to bring out the very worst aspects of themselves? You must be Hitler.
So just follow these simple steps, and pretty soon you too will be out and about, furthering the misconception that everyone who uses the internet is a maladjusted sociopath. Cheers!